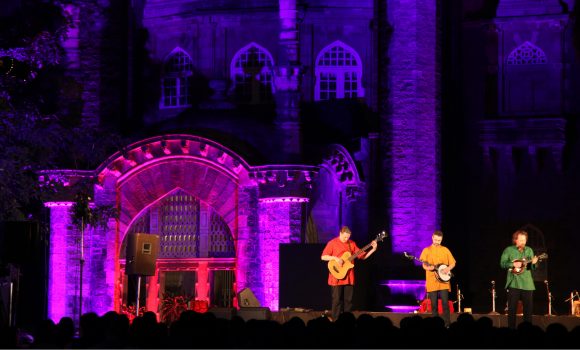 Louvat Bros.
How can American Bluegrass meet the oriental meditative music or the funk of the 70's? How does a 5-string banjo, a mandolin and a bass come into contact with the Irish folk and African rhythms… flirt with rock or even baroque music?
Louvat Bros, three brothers in music based in Belgium propose a few answers to these questions. Steve Louvat, Jeff Cardey and Michel Vrydag met each other in a common passion to create music. Influenced by diverse musical styles and genres, they create a unique universe of sounds.
In 2012, a first album selftitled « LOUVAT Bros » wins the « Liz Meyer Award » rewarding the most innovative European band on the Bluegrass scene. In 2014, the prestigious German « Acoustic Music Records » label releases the second Louvat Bros album « Contrastes », a title perfectly reflecting their music : full of surprises and contrasts.
Meanwhile the trio prepares a third album : « Connecting Souls ».
Back in 2010 the Louvat brothers Steve and Jefferson, who had been playing together since their childhood, invited Michel Vrydag to take up the challenge: to build a repertoire gathering their musical influences from around the World (Bluegrass, Irish, Klezmer, Blues, baroque music, Jazz, Rock,…). Today Jefferson is replaced by Jeff Cardey, a Canadian guitar and mandolin player who lives in Brussels. He knows the history of bluegrass inside out!  and has a very open spirit to discover new musical styles.
No wonder that these richly influenced and highly talented "brothers" create a unique and innovating wall of music. A sound played with delicacy, eagerness and enthusiasm.
The aim of Louvat Bros is to widen the road on the well travelled acoustic music scene through original compositions, an uncommon instrumentation and high technical skill on their instruments. This allows them to travel around the world with their music. They toured in Belgium, across Europe ( Luxembourg, Spain, France, Netherlands, Germany, Switzerland, Czech Republic, Bulgaria, United Kingdom… ), several times in Canada & United States and  in India where they shared scenes with musicians from Kashmir, Rajasthan, West-Bengal and Siberia.
Hundreds of wonderful concerts that opened their musical and personal view on the World.
"…Louvat Bros, sparkling tone that rocks!"
Line-up :
Steve Louvat : 5-string banjo, guitar
Jeff Cardey : mandolin, guitar
Michel Vrydag : electric bass
www.louvatbros.com gives a taste of what to expect from Louvat Bros on stage.
Conditions and availibility, contact Loecker – a passion for roots music.