Michel Vrydag
« Eclectic and full of surprises » is something that can describe the belgian bass player and composer Michel Vrydag. Based in Brussels, he plays mainly jazz and folk music and even rock and metal. Music has taken him all over the world : Europe, America, Asia and Africa.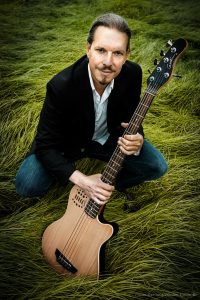 Active on the Jazzscene as a sideman, he leads and composes for his own trio « Mapping Roots » (Bram Weijters on piano and Daniel Jonkers on the drums). We have heard him on various Jazz projects and encounters with people like Bram Weijters, Bo Vanderwerf, Fabian Fiorini, Stéphane Mercier, Xavier Roge, Antoine Pierre, Bruno Grollet, Laurent Mercier, Bruno Castellucci, Pierre Bernard, Sabin Todorov, Lionnel Beuvens, Casimir Liberski, Tutu Poane, Toni Mora, Paolo Loveri, Dimitri Delvaux, Vincent Thékal, Alex Koo, Bert Cools, Stijn Cools, Eerik Bogaerts, Kris Duerinckx and most of the Belgian musicians of his generation.
Besides his activities on the Jazzscene, he also tours and writes music with the Louvat Bros, a Folk & World music group with three albums recorded to date and winner of the Liz Meyer award for the most innovative European Bluegrass Band in 2012. He also participates in South American and African music projects (some with Josaphat Hounnou – drummer of Lionel Loueke) and plays with Balakumar Paralinangam, the highly regarded percussion player of Carnatic music (South India and Sri-Lanka). He is also active on the Rock and Metal scene. In 2013, He toured with Paul Di'Anno the original singer of the legendary Iron Maiden on his Farewell tour in France. He also plays with rock band Z-Band and has recorded two albums with them.
He has toured in Belgium, across Europe (Luxembourg, Spain, France, Netherlands, Germany, Switzerland, Czech Republic, Bulgaria, United Kingdom…), several times in Canada & United States as well as in Koweit or  India where he shared scenes with musicians from Kashmir, Rajasthan, West-Bengal and Siberia. Hundreds of wonderful concerts, of human experiences that opened his musical and personal horizon.
[ Born and bred in Brussels, but thanks to music he has evolved into a great world citizen. That, very briefly, is how I would like to introduce the fantastic jazz bass player Michel Vrydag. ][ Vrydag is a musical jack-of-all-trades, who finds his way just as well in bluegrass as in metal music, but who, I think, finds an excellent playground in jazz to give shape to his unbridled quest for beauty.] Dani Heyvaert – RootsTime
[ The Brussels bass guitarist Michel Vrydag has put a lot of effort into 2021 to make a great album with his project, trio Mapping Roots. It has become a double CD that does not bore you for a minute. ] Robin Arends – Jazz Halo jan 2022.
« Michel Vrydag, the bass-player, clearly guided us to a super jazz world, all set for accompanying his partners, his soli are bright and luminous. They brightened up the performance in spite of the low register of the bass sound » FD – Jazz For you – Jazz Concert Review 2019.
«Michel Vrydag, Bass player … but is this enough to describe this virtuoso musician? Originating from the Belgian jazz scene, he performs incredible jazz soli, gives a rhythmic cohesion to the group and I can only recommend to carefully listen to « New Sweet Home », a banjo virtuoso piece that the best specialists would not disown, to understand what I am trying to describe with limited words. Here are 15 breath taking titles. Those who like instrumental music can now risk opting for this blue grass/new grass pearl made in Belgium» D Guillot – The Bluegrass Times.